Company Profile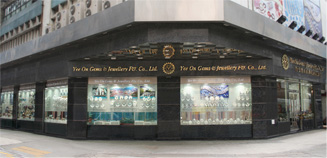 Founded by Mr. Wong Tat Wah, the Director of the company in 1978 and headquartered in Hong Kong, Yee On (Group) Limited Hong Kong is a conglomerate specializes in processing and marketing gems, pearl, jewellery and ornament, development of industry and real estate, and operation of hotels and resturants.
Yee On Gems & Jewellery Factory Company Limited is one of the world's leading manufacturers and exporters of semi-precious stones, fresh water pearls, mabe pearls and Tahiti pearls in Hong Kong, we sell our products all over the world.
Besides semi-precious stones and pearls, we also carry a wide selection of gem stones and other materials such as turquoise, sea bamboo coral and shell. Our selection includes beads, cabochons, donuts, tumbled stones, chips, necklaces, bracelets, earrings, fancy shape pendants, gem globes, rosaries, fountains, carving and gift-sets etc.
All our semi-precious stone materials are directly imported from South Africa, Brazil and the United States. Our modern and well-equipped factory in Dong Guan, China is over 50,000 square meters, more than 4,000 skillful craftsmen and workers are employed. We use the latest technology to aid the process of selecting, cutting, crafting, polishing and drilling accompanied with strict quality control.
Customers can always be confident to the quality of our creations. Our prices are highly competitive and our expert advice is always at their disposal. We closely monitor market and customer trends and reflect them in our designs and fashionable products.
Seeing is believing. We invite you to visit or contact our main office in Hong Kong or the showroom in our factory in China. Our experienced staff will be pleased to serve you. We are sure you will be very impressed by our magnificent and comprehensive collection at unique prices.
Showroom Profile

You are cordially invited to visit our newly renovated showroom in our Hong Kong main office, which over 5000 square meters. Our showroom consists wide range of selection includes stabilised turquoise, mabe pearls, shell; beads, cabochons, donuts, tumbled stones, chips, necklaces, bracelets, earrings, fancy shape pendants, gem globes, gift sets etc.
For over many years, our company has been providing top quality gemstones and creative designs jewellery. Ranging from classic to contemporary designs, which are, truly one of a kinds.
Our unique products at a competitive price are just for your choice!